Innovation allows organizations to remain relevant and competitive in today's globalized world and therefore has an important role in economic growth and people's well-being. Transforming knowledge into impact through innovation is a priority for ESPOL and that is why we contribute to society from the bases of providing innovative education, applying research to useful solutions for the productive sectors and supporting the culture and processes of innovation of startups and organizations in general.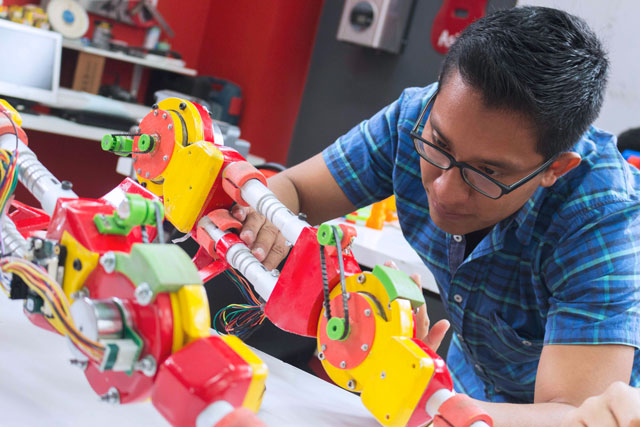 ​
Educating is one of our substantive functions. Furthermore, our mission is to cooperate with society and promote sustainable and equitable development through professional training (and also through research and innovation). 
That is why we constantly innovate in the teaching and learning process.
More than 15 years ago we implemented methodologies such as Peer Project Learning (Learning by Projects and between Peers); Research-Based Learning; MOOCs (Massive Open Online Courses); Flipped Classroom and Gamification are some examples. 
These efforts were consolidated as of 2016, with the Curriculum Reform. Thus, we launched several educational projects that -in addition to the high-level technical training, distinctive of ESPOL- included humanistic and comprehensive training that strengthened our students' essential competence in learning to learn.
As a result of these and other efforts, international rankings such as QS Latam and THE Latam have placed us as the best public university in Ecuador. Additionally,13 of our majors are accredited by ABET, a recognized organization in the US that accredits engineering, technology, computing, and applied science programs at colleges and universities.
Currently, we adapt to the new challenges facing our students and teachers. For this reason, we implement a student-centered educational strategy that aligns study modalities and teaching-learning methodologies with educational innovation and aspects of digital transformation that enhance student training. 
Within the framework of this strategy, four study modalities are offered for teaching classes:
E-learning  
Hybrid
Face-to-face 
Virtual due to emergency  
The fundamental principles underlying this strategy are as follows:
Academic Quality: Whatever the modality and participation of the students, they lead to the achievement of the same learning results. 
Flexibility: Students select the study modality and their participation, according to their context (geographical location, state of health, preferred learning strategy, among others) 
Active: Focused on the student motivating a leading role in the generation of their knowledge. 
Innovative: Application of educational innovation methodologies including digital transformation strategies in learning. 
i3 LAB
i3 LAB is ESPOL's Center for Entrepreneurship and Innovation, whose mission is to promote and develop an entrepreneurial culture and the skills and resources of people and organizations to generate value for society through innovation. The three i's in its name refer to three important elements for development: integration, innovation and impact. For this reason, we contribute to the innovation ecosystem by promoting Ecuadorian startups and facilitating technology transfer and corporate and educational innovation.
We offer advice, training, research and support to institutions and professionals seeking new business opportunities, creating innovative companies and developing new products and services; maintaining high standards of excellence and international competitiveness. The possibility of innovating is available to everyone at all times, which is why our motto is "create value now".
IMPACT AREAS
Education
We develop skills and entrepreneurial culture inside and outside the university through formal courses, student clubs, workshops, events, contests and coaching; through experiential, multidisciplinary training linked to the environment.
Startups
We provide incubation and acceleration of startups, mentoring and contacts with entities and experts from ESPOL, Guayaquil and the world to help promote dynamic and innovative ventures. We provide infrastructure through our coworking, laboratories and other ESPOL facilities.
Business and Public Link
We help to integrate and develop innovative organizations and to conceive products and services of greater value that allow us to satisfy the needs of clients and users, through the offer of training programs in management and innovation methodologies, open innovation challenges, relationship spaces and outsourcing of innovation processes.
Technology transfer
We connect research with the market to achieve the social welfare and development of the country and the region. We offer the possibility of licensing technologies developed at ESPOL, and the opportunity to carry out research under contract, to generate new solutions to problems that allow organizations to generate exportable value and/or solve society's problems.
For more information and contacts, visit: www.i3lab.org
In an environment in which the knowledge economy and digital transformation are rapidly changing the world, the District 100 project was born, which proposes a smart city Guayaquil technology, innovation and entrepreneurship center. Your starting point will be at the ESPOL Las Peñas campus, located in a sector of high historical and tourist value in the city.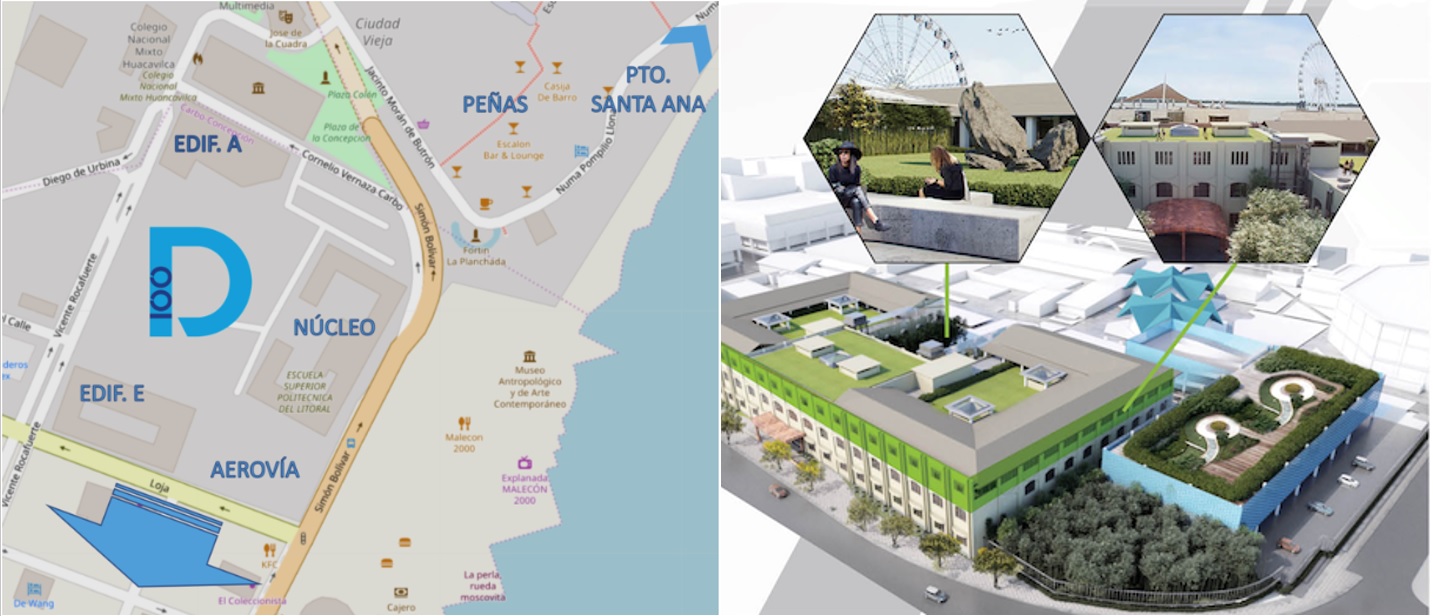 ​
District 100 will be a space for the formation of innovation ecosystems in Guayaquil, which will have a Science Museum designed for children and adolescents, FabLabs, service areas, areas for coworking and startups, Internet of Things (IOT) laboratories and Big data, experimental rooms, meeting and event rooms, gazebo, terrace, among other attractions. All this, aiming to position the city as a benchmark in smart cities.
"We are convinced that District 100 will accelerate the economic development of Guayaquil (...) collaboratively promoting sustainable solutions and products based on science, technology, engineering, arts and mathematics," said the rector of ESPOL, Cecilia Paredes.
"On the one hand, there is the opening of this first-class technological space and, on the other, the building itself, which was the old Guayaquil customs office, which later became the Fifth Guayas and then the ESPOL facilities; now it is going to become an icon that also in its own facade and in the remodeling that will be done, it will represent a new pole of tourist attraction in that area," said Jaime Nebot, former mayor of Guayaquil.