The ESPOL choir was founded twenty years ago and is made up of a public-spirited group of citizens, students and ESPOL alumni, committed to disseminating national and universal works of choral art. 
Its repertoire includes songs from the Renaissance era to the present day. This said, the group has always placed special emphasis on including national and Latin American music.
The ESPOL choir has performed in various national and international festivals, where it has received recognition for its cultural labor.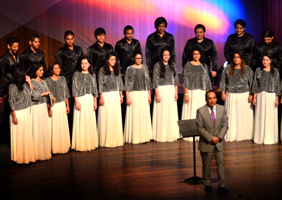 "CULTURAL MONDAYS" IN ESPOL
The "Lunes Culturales" (Cultural Mondays) in ESPOL began on February 6, 1979, when Ing. Gustavo Galindo was Rector. This initiative arose from a perceived need to complement the education of ESPOL students with activities related to the Humanities, as part of an integrated educational offer. Thus, regular activities were begun, at first, in Campus Las Peñas, and it was established that artistic performances or presentations should be carried out once a week.
This space has remained constant and free of charge over 35 years, during which time the ESPOL Drama Group, the ESPOL Choir, and national and international artists have shared their art and talent.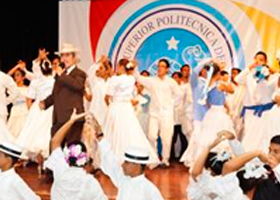 This artistic group was created fourteen years ago and is made up of students and alumni. Through its presentations it publicizes the folk ballet of Ecuador both within the country and further afield.
The talent of these young ESPOL students has been recognized in festivals in Peru and Colombia.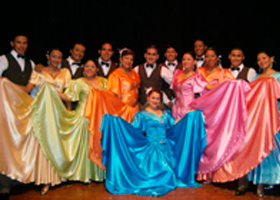 SONIDOS DEL SOL ("SOUNDS OF THE SUN")
This group, dedicated to folk and Latin music, created seven years ago, is specialized in traditional rhythms such as the Pasillo, Sanjuanito, San Juan, La tonada, and Albazo, among others. Sonidos del Sol has released two records: "Mi chica de la ESPOL" and "Sonidos del Sol".
This artistic group has performed on various stages in Ecuador and has found favor with its audience for its effort to preserve traditional rhythms.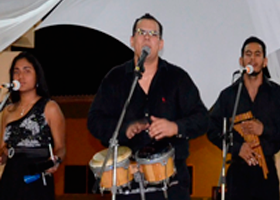 This artistic group was founded 35 years ago and was directed by the dramatist José Martínez Queirolo (+), who succeeded in imbuing its performances with a pronounced cultural content, and also in popularizing the works of national authors.
The talent of this theatrical group has been recognized by the City authority, M. I. Municipio de Guayaquil, and also by the Museo Municipal de Guayaquil (Municipal Art Gallery) in various festivals taking place in the city.  It has also performed in theatrical events in Argentina and Colombia.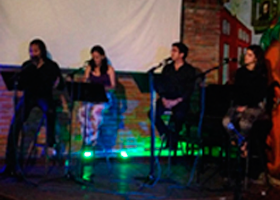 La Rondalla is a group that combines voices and stringed instruments, in order to perform works taken from popular and foreign musical genres. It has been in existence for eleven years, and its first director was Rosalino Quintero, an important figure on the national musical scene. 
The works of this group include four recordings: "La Rondalla", "Sentir latinoamericano", "Dejando huellas" and "Homenaje a mi tierra Ecuador".